Creativity Explored at 50 Jones
Gracing the walls of our hallways, mailroom, and even staff offices, are vibrant and abstract art pieces from artisans of the Creative Explored collective. In focusing on our mission to highlight local artists, 50 Jones has partnered with Creativity Explored since opening our doors and to breathe life into the ambiance of the building. In this interview, we were able to learn more about Creativity Explored, including their mission, goals, and the creative process for their diverse artist community.
50 Jones: Can you briefly explain what Creativity Explored does?
CE: Creativity Explored is a studio-based collective in San Francisco that partners with people with developmental disabilities to celebrate and nurture the creative potential in all of us. Founded in 1983 by a psychologist and an artist, Creativity Explored has facilitated the careers of hundreds of disabled artists and serves as a model worldwide. 
Creativity Explored currently serves 130 artists with developmental disabilities offering art supplies, training, as well as exhibition and sales opportunities in traditional and digital media. Our artists have seen their work exhibited in museums, galleries, and art fairs in over 14 countries and have earned over $2 million from their art. Our life-changing programs continue to open doors of inclusion to center the personhood and creative vision of people with developmental disabilities. Most importantly, Creativity Explored is a source of community, empowerment, and dignity for artists in San Francisco and the Bay Area at large.
Can you please tell us more about the artists exhibiting their work at 50 Jones, offering insights on their stories, background, etc? 
CE: All of the artists that are part of the final selection of artwork have a unique 
style that we were able to curate as a unique and cohesive collection for 50 Jones: 
1989, Thailand • CE artist since 2011 
Kaocrew "Yah" Kakabutra began her art practice by making small-scale works on paper. Her mark-making is as diverse as the media she works with. Repeated circular forms are made with colored pencil over a background mixture of acrylic and pastel. Alternatively, Kakabutra delicately washes watercolors in flowing pastel shades. An experimentalist by nature, Kakabutra's practice has expanded to massive color-rich canvases with varying types of marks created by applying paint with sticks, whips, and brushes of many sizes.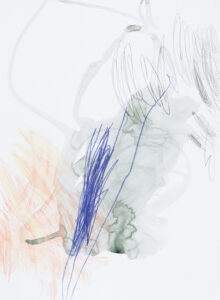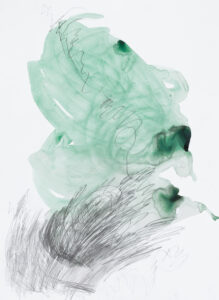 1992 • CE artist from 2014 – 2020 
Corine Raper creates abstract works on paper, using pastel or paint to capture and emphasize the energy of her movement. Drawing or painting gestural lines, marks, and shapes, Raper approaches each paper with focused intensity. She plays with composition and density of color, taping down the paper so that she can draw or paint with both hands.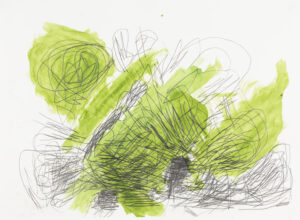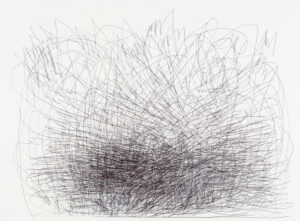 1973, San Francisco • CE artist since 2013 
Elana Cooper is primarily known for her striking, large-scale floral silhouettes, though animals are also a common subject of her work. Cooper paints in bold strokes, the background in one color and the subject in a contrasting color, giving her representational work an abstract quality. Drawing from a journal of flowers, Cooper has created her modern floral silhouettes with ink, watercolor, acrylic, and even 3D wood, cutout sculptures.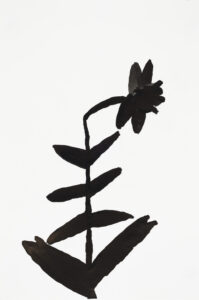 1975, San Francisco • CE artist since 1998 
Taneya Lovelace creates dramatic abstract mixed media works, layering rich colors and organic forms to build complex compositions with much visual movement. Lovelace is a determined and focused artist while at practice, painting in meditative stints, usually color by color. Lovelace's expansive abstractions can sometimes be interpreted as landscapes composed of basic painterly forms – circles, dots, and marks.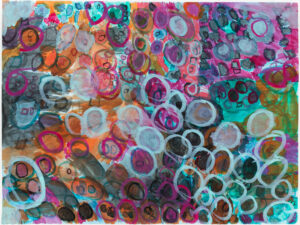 Vincent Jackson is one of the most prolific and longest practicing artists at Creativity Explored. Jackson's abstract and stylistic point of view is exemplified in the simple abstract paintings selected for 50 Jones. His thick, defining lines and determined brushwork break forms into geometric shapes filled with a heavy impasto and arranged with Jackson's masterful sense of harmony.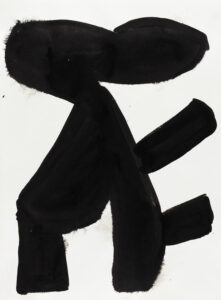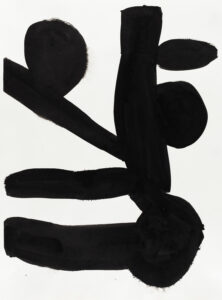 1971, San Francisco • CE artist since 1999 
Quintin Rodriguez creates expressive works, no matter his medium. Favoring pencils, ink, and watercolor, his precise linework complements his interest in graffiti art in his youth. His use of jagged and raw lines in his art reflects this influence. A master of composition, Rodriquez spends a significant amount of time on each piece and often takes time to reflect and enjoy the creative process.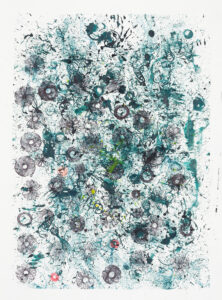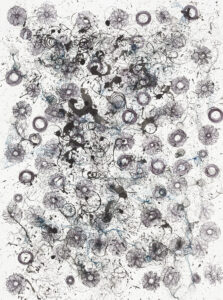 50 Jones: What's the day-to-day reality of the artist scene in San Francisco, including both the opportunities and difficulties like selling, marketing, finances, production, and just getting work done? 
CE: For our community of over 130 CE artists living across the Bay Area, their experience in the local art scene varies widely. Some artists are actively producing tons of artwork while at home, while others would prefer to wait until we can be back in our studio space. Some artists have more access to technology, giving them unique opportunities to connect virtually and create digital art. Others prefer to use more traditional methods to stay in touch and communicate through the mail or over the phone to get mentorship on projects. Currently, our program offerings are adapting to meet our artists where they are and as they are able – delivering their requested supplies, holding weekly group and individual classes, making lots of phone calls to coordinate projects with artists and their caregivers, sending letters and packages, facilitating art exchanges and collaborations, and even showing off art during short, social-distanced sidewalk visits. One artist even produced a commission at a card table on the sidewalk, while being coached by a teacher from a distance. 
CE artists and community members have many notable friends, supporters and partners. We collaborate with everyone! Many CE artists participate in major exhibitions and projects (like Andrew Li's mural with ArtSpan at Salesforce Park [10 minutes from 50 Jones], and our current collaboration with Alicia McCarthy and Ajit Chauhan included in Monument at Minnesota Street Project). Some artists may not always be able to travel to see their art on display but enjoy creating and making friends.
At CE, we take pride in breaking down the barriers in the art world with robust exhibitions outreach, grants, collaborations, and projects like 50 Jones that connect our artists with communities right here in San Francisco. We'd love to see the wider arts community embrace the disability community and make artist opportunities more accessible – we're determined to make it happen. Centers like Creativity Explored exist now all over the globe. We're all doing our part to redefine what makes someone a professional artist.
50 Jones: What Tenderloin and/or Mid-market restaurants, artists, and/ or public spaces inspire you? 
CE: We're partial to spaces that are filled with art (and even better if it's CE art!). Hotel G [just a 10-minute walk from 50 Jones] is a longtime CE art services partner housing original artwork in their guest rooms and lobby, including some epic commissions featuring artwork by Richard Wright.
We also love the Tenderloin Museum. This small but mighty space is a seven-minute walk from 50 Jones that is always supporting amazing local artists and sharing slices of San Francisco's rich history. The ceiling in the museum is a 3-D map of the neighborhood, and we love it! 
We miss visiting our partners at Cutting Ball Theatre. The team at Cutting Ball operates an incredible performance space and has even licensed CE art to use for their program designs. Recently, Cutting Ball commissioned CE to create background art and animations for their first virtual production, Utopia. 
The Main Branch of the San Francisco Public Library has always been a favorite for our community as well. Recently they hosted an exhibition featuring many portraits by CE artists of local Disability Changemakers that traveled to libraries around the Bay. It was wonderful to see this community recognized and honored with portraits in a public space.  
50 Jones: How can our community support Creativity Explored? 
CE: To support CE and our community of artists, shop for CE artwork and products on the CE website or our gallery catalog on our Artsy page. You can also shop for artful products featuring CE artwork or from our licensing partners. Artists earn income directly with every purchase. 
You can also become a donor and get exclusive access to special events and programs. Definitely subscribe to the CE newsletter and follow us on Instagram and Facebook to meet our artists and learn about their stories and artwork. And, of course, you can purchase, rent or license artwork for nearly any project or product imaginable.